Run FlatFrog Board for Rooms and a Video Conference (VC) provider of your choice through an app launcher like QuickLaunch. Use Quicklaunch interface to switch between FlatFrog Board for Rooms and VC app.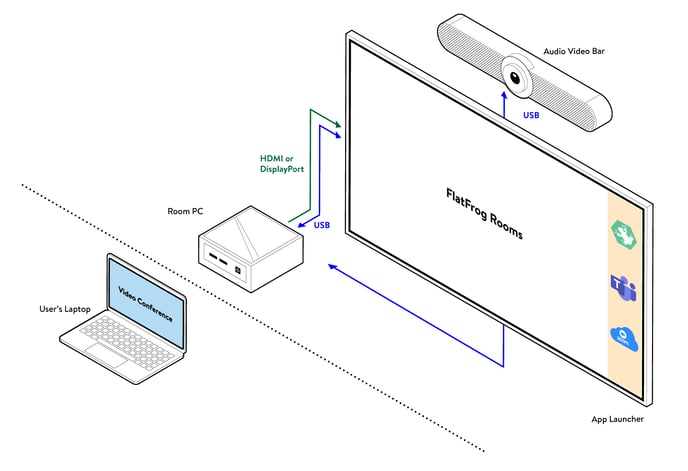 Room PC with VC host and FlatFrog Board for Rooms running with launcher like Quicklaunch
Video conference service is set up as a meeting room account on Room PC (e.g. Teams or Zoom)
Install FlatFrog Board for Rooms application on Room PC
Connect AV peripherals (Cameras/Mic/Speakers) to Room PC
Quicklaunch (application launcher)
Optional
Screen sharing (wired or wireless)
Install Outlook (as room booking system)
FlatFrog Board for Rooms
Video Conference
Quicklaunch

Install on Room PC*

Download FlatFrog Board for Rooms Pro Bundle, Pro, or Business here

Launch FlatFrog Board for Rooms in Quicklaunch

Select Teams, Zoom, or a Video Conference of your choice in Quicklaunch
Using Teams, Zoom, VC of your choice with FlatFrog Board
Start FlatFrog Board for Rooms using the App Launcher.
Start the Video Conference software of your choice using the App Launcher.
Invite remote participants to join from their laptop - There are 3 ways for remote participants to take part in the FlatFrog Board Whiteboarding session:

From the room display: Direct other participants to app.flatfrog.com. Provide participants with the six-digit Board Code shown in the top right corner of the interactive display. This will allow them to work on the Board from our web app.

From your laptop: Join the FlatFrog Board session on your laptop using app.flatfrog.com. Then share the invitation link with the rest of the meeting participants via the VC chat or email.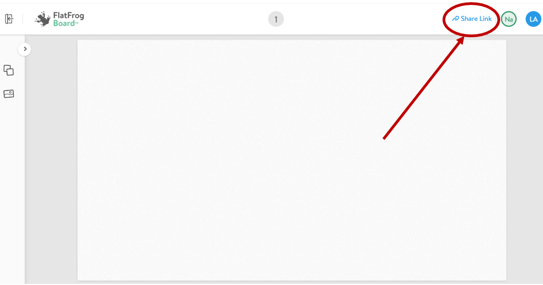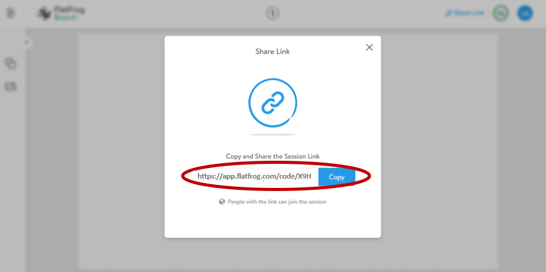 c. Use the VC software to screen share FlatFrog Board from the Room PC.
Participants won't be able to actively work on the Board but they will be able to view.
Other Meeting Room Configurations