You can use Microsoft Teams with FlatFrog Board for Rooms by either installing Teams on the Meeting Room PC or bring your own PC and connect via screen sharing.
Using Microsoft Teams on the Meeting Room PC
Download and install Teams on the meeting room PC
Setup a meeting room account. This can be a regular account but dedicated to a meeting room.
After installation you can start Teams from the Start Menu and join or setup a meeting.
If you have a camera device connected Teams will use that as video camera.
You can now share your screen from the Teams interface.
Screen sharing FlatFrog Rooms with Microsoft Teams
Start or join a Microsoft Teams meeting
Click on the 'Share' icon in the toolbar
Select the window you would like to share. You can choose to share your entire screen or just the FlatFrog Rooms. A red border will appear around your screen when this is successful.
You may also allow other participants in the meeting to manipulate content on FlatFrog Rooms by giving them control of your screen. You can also click 'Request Control' to control items if someone else is sharing their screen.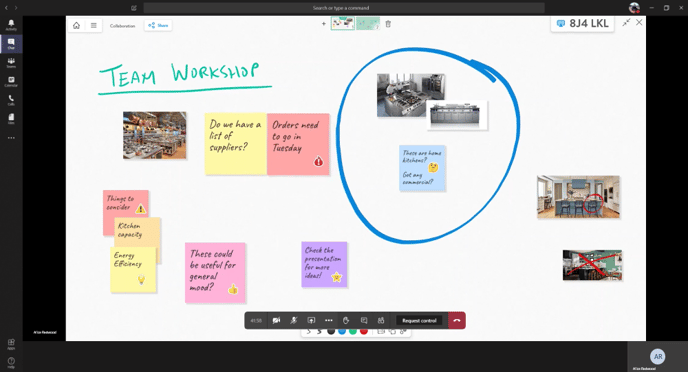 Using Teams from your laptop (Bring your own device)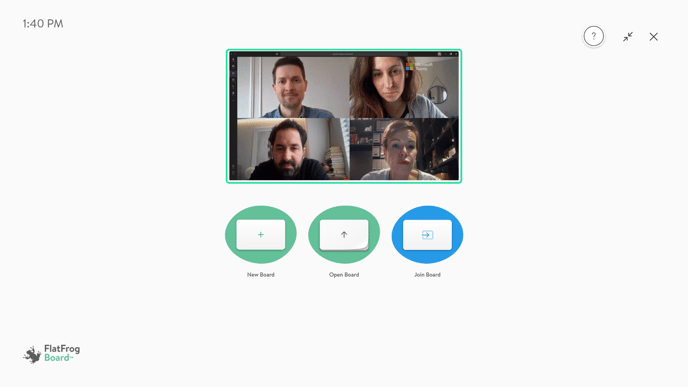 Download and install Teams on your laptop.
Register a personal account.
Make sure that you have the screen sharing setup with FlatFrog Rooms. Connect your laptop via the HDMI cable or via a connected screen sharing hardware of your choice.

You can now start a meeting and see the Teams interface in a window on-top of the Whiteboard.
The laptop video camera will be used.
You can now share your screen from the Team interface.